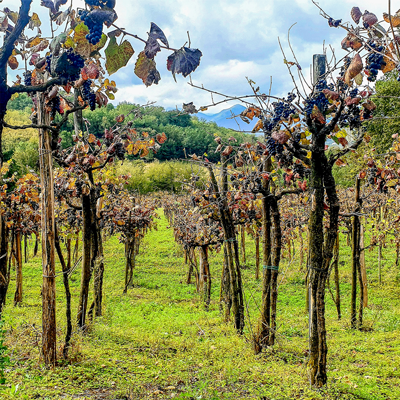 Baghdati wines are gaining popularity
Baghdati municipality is one of the most distinctive zones of Imereti in terms of viticulture and winemaking. In recent years, lots of residents of Baghdati have decided to develop their own family vineyard and winemaking and in addition to get involved in wine tourism. New vineyards and cellars are being planted and built, traditional Imereti method of making wine in ''Tchuri'' is becoming more and more popular.
The people of Baghdati are well aware that making high quality wine and developing wine tourism can become one of the main sources of their income. There are already several successful small cellars in Baghdati, some of which are the members of the Natural Wine Association.
The Abuladze family vineyard and cellar are located in the village Obcha, Baghdati Municipality, which today produces the well-known organic wine "Baia's Wine". Wine lovers can buy wines from this cellar not only in Georgia, but also in European countries and the United States.
In the village Meore Obcha, Mamuka Chkheidze continues the best traditions of family viticulture and winemaking. "Simon Chkheidze Cellar" has at its disposal a family winery with pots (Tchuris), where the wines are aged for several years. Various vine varieties are grown in the yard of family. Besides this yard, the family also has Otskhanuri Sapere vineyard formed on the ''Khardan'' in the old Georgian way.
Over the years, "Gaioz Sopromadze Wine Cellar" in Baghdati has become very famous and popular. The cellar produces several Imeretian wines, which are sold well not only in Georgia but also abroad.
The Mshvildadze family business called ''Baghdati Estates'' produces wine in Tchuris by using the traditional Imereti method.
On the map of small cellars in Baghdati you will see the cellar of the Chrelashvili family "Dimis Ferdobi" and the tasting space.
In the village Persati, Baghdati Municipality, the Minadze family continues the path followed by their ancestor - Tarasi Minadze. "Tarasi Minadze Wine Cellar" currently produces Tsitska, Tsolikouri and Krakhuna wines. In two or three years, a newly planted vineyard - Dzelshavi and Otskhanuri Sapere will harvest grapes, and red wines will be added to the cellar production.
In 2020-2021, three wineries from the Baghdati joined the Natural Wine Association - Mirian Iosebashvili Cellar, Family Winery ''Nagutnebi'' and ''Bagrati's Wine.'' These wineries also continue the traditions of family viticulture and winemaking and produce wines made from Imereti grape varieties.
The people of Baghdati hope that winemaking will become the business card of their region. This is a difficult but feasible objective. The quality of local natural wine speaks for itself. In addition, the favorable environment for viticulture and winemaking and beautiful landscape of the region is another important factor in reviving wine and hospitality industries.