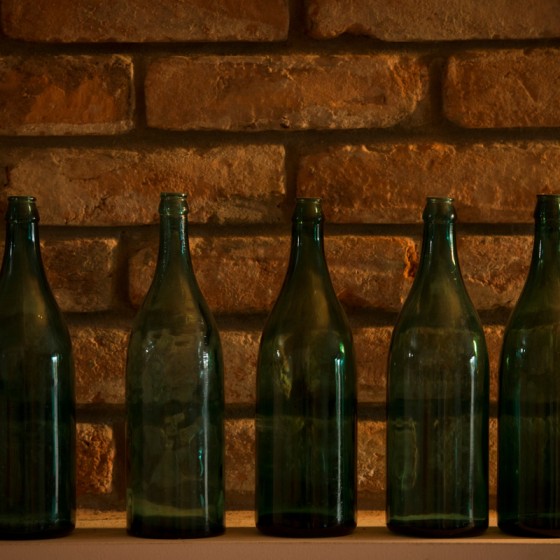 The present and the Past of Akhmeta Wines
For a long period of time Akhmeta was considered a less attractive area for winemaking and this viewpoint was most clearly evident in the assortment of products produced by local collective farms during the Soviet period. The collective farms operating in Akhmeta during the Soviet times mainly focused on sheep-breeding, fruit-growing, sericulture and cereal crops. There was a general consensus according to which Akhmeta grapes were not interesting in terms of winemaking and that they couldn't compete with for example best wines from Telavi or Gurjaani villages.
One of the main reasons for this viewpoint and widespread wrong attitudes was the origin of Akhmeta municipality's (formerly Akhmeta district) population. It's a well-known fact that that there are only a few Kakhetians living in Akhmeta, mostly this municipality is populated by people who were resettled here from east Georgia and they were always focusing on cattle-breeding as they never had a grape- growing/winemaking tradition. Tushetians living in Zemo (Upper) and Kvemo (Lower) Alvani villages as well as Laliskuri village (which now belongs to Telavi municipality), Khevsurians and Pshavs living in Kistauri, Ozhio, Akhshani villages and the town of Akhmeta as well as Mtiuletians living in the village of Matani were not interested in the grape-growing capabilities of the Akhmeta soil and therefore, there was a widespread opinion according to which Akhmeta was more suitable for pasturing than grape-growing.
Additionally, historic Mta-Tusheti region is administratively a part of Akhmeta municipality and even today one of the main sources of income for Akhmeta is Tusheti with its traditional sheep-breeding and tourism business that has started to grow in recent years.
We shouldn't forget one of the most important parts of Akhmeta municipality – Pankisi Gorge. The high elevation of Pankisi Gorge is an important factor too, grapes that would have the quality of for example the Argokhi or Kistauri varieties most likely wouldn't grow there anyway. Besides, Ossetians live in some villages in Akhmeta municipality (Maghraani and Pichkhovani), who are traditionally known for their beer-brewing abilities than winemaking.
Grape-grower/winemaker Lexo Tsikhelishvili owns vineyards mainly in the village of Kistauri, he set up his wine cellar in Upper Alvani village. He is focused on natural wine production and he's a member of Natural Wine Association. Besides the EU, his wines are sold in the USA and Japan. Kakhuri Mtsvane is his most popular and well-known brand of wine.
Lexo Tsikhelishvili, Tsikhelishvilis' Wine Cellar: "Now everyone has seen and recognized that Akhmeta is distinguished for its original climate. As for the grape varieties, Akhmeta Kisi and Akhmeta Mtsvane varieties have been known from time immemorial. As a result of all this, general interest towards our region started to grow and we have now become a distinguished terroir."
Akhmeta is situated at the junction of three rivers: Orvili, Ilto and Alazani, it's notable d for its micro-climate, winters are moderately warm and summers are moderately hot here, which enables grapes to enter the full physiological maturity stage. In this notable micro-climate, the vineyards spread over alluvial, highly-carbonated soils yield wonderful harvests. Historically, Akhmeta wines were always outstanding, even Vakhushti Bagrationi himself noted local wines' qualities.
Another member of Natural Wine Association, founder of Akhmeta Wine House wine cellar, grape-grower/winemaker Nikoloz Garsevanishvili started our conversation by speaking about Akhmeta's notable micro-zones and grape varieties.
Nikoloz Garsevanishvili, Akhmeta Wine House: "Out of the diverse local varieties I'd single out Mtsvane Kakhuri variety, which produces a notable, different and full-bodied amber-colored wine. I'd also single out Khikhvi (which locally is known as "Jananura") and Kisi, which is said to have originated from endemic Maghraani Kumsi and Mtsvane Kakhuri varieties. The state also recognized the outstanding qualities of this micro-zone due to the above-mentioned reasons and added "Akhmeta" wine to the list of Protected Designations of Origin (PDO). "Akhmeta" wine is produced from Kakhuri Mtsvane (white wine) and Kakhuri Mtsvane and Kisi (amber wine)."