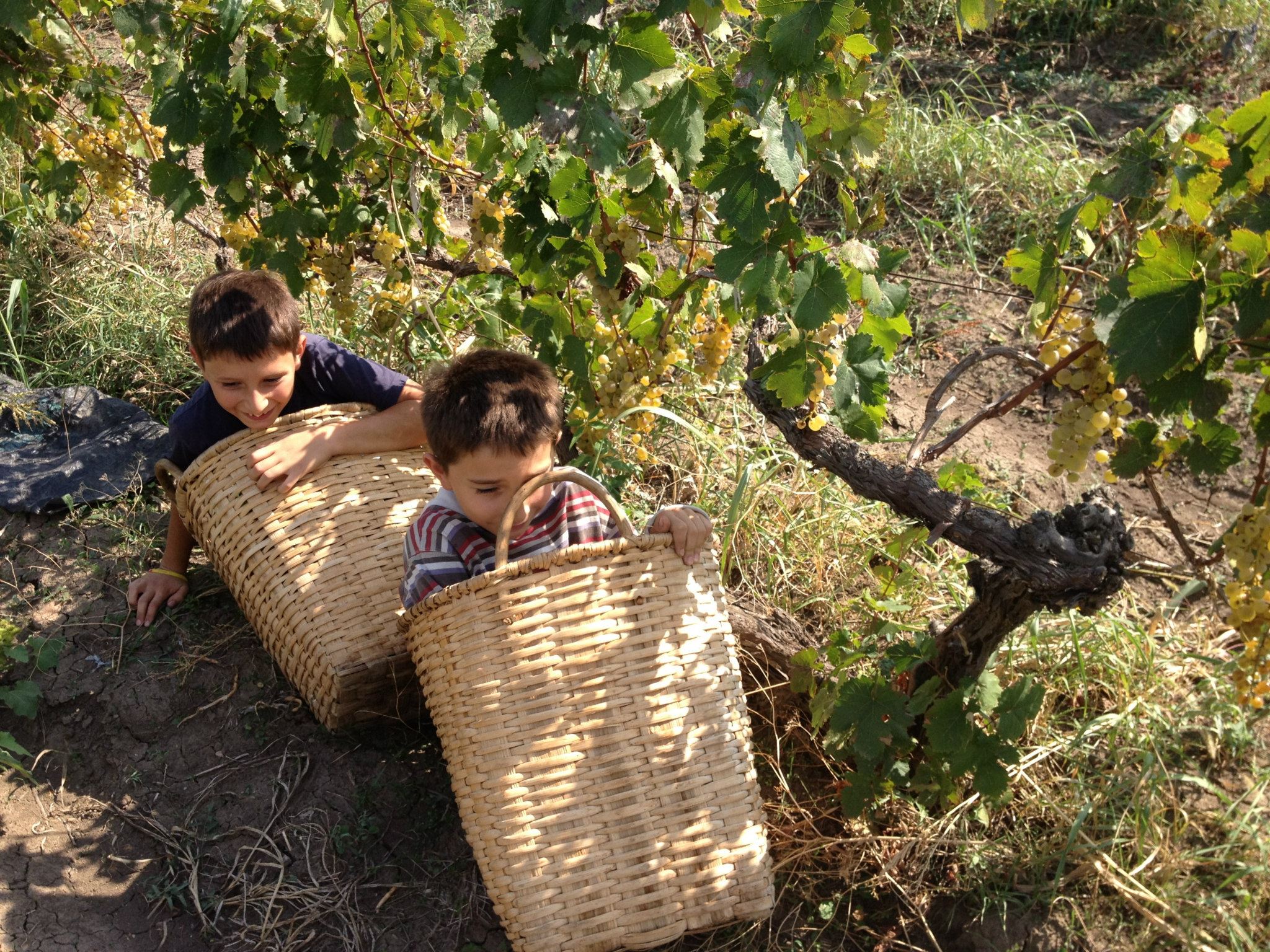 Kartli Vintage 2023
The 2023 vintage was problematic in Kartli, just like in Kakheti. The winegrowers of Shida Kartli were especially affected by hail and fungal diseases, which intensified due to frequent rains. The people of Kvemo Kartli also suffered. This year in Kartli, there were micro-zones where the local winegrowers could not harvest any grapes, and because of this, some people may even lose their passion for viticulture and winemaking. Unfortunately, among the affected winegrowers, there were also members of the Natural Wine Association. In our conversation, some even said that they lost 100 or 90% of their harvest this year.
Vineyards of Zaza Darsavelidze's winery "Dasabami" are located in the village of Tamaris, in the Marneuli municipality. Zaza's winery has been following the rules of natural viticulture since its foundation4. He said that 70% of the harvest in the vineyards was destroyed, and this was the case for other vineyards in the area as well.
"Irma and Kato's Winery and Vineyards" joined the Association in 2022. The winery's representative, Irma Merebashvili, says that only 10% of the expected harvest this year can be collected, and it is hard to predict the quality of the wine that will be produced: "We have such a poor harvest at a time when our winery was entering a new stage of development, and this loss is not only a financial setback, but also a moral blow. What choice do we have?! We have to adapt and look ahead. Unfortunately, this is the nature of the viticulture and winemaking business. It is very challenging to anticipate and plan everything beforehand."
The vineyards of "Tedzami Marani" are located in Garikula village of Kaspi municipality. Tedzami has lost all of its harvest. The cellar had no vintage this year. Meanwhile, Niko Beriashvili was very fortunate, as his wine cellar is also in Kaspi municipality, in village Teliani.
Niko Beriashvili, winery "Niabi": "I harvested in the first week of October. The weather was calm and sunny. Some of the crop was affected by powdery mildew, but I removed the damaged parts while picking. The clusters were fully ripe. I collected up to 3 tons of white grapes and 500 kilograms of red grapes. I pressed both with skin and I expect it will be a good and interesting wine."
The people of Gori also had a tough year. There too, hail and downy mildew ruined a large portion of the harvest.
Tengiz Dvalishvili, TDWinery: "This year I will only get 150 to 200 kilos of grapes. I was hoping for 4 tons. The white Budeshuri variety was the only one that survived. The foxes also feed on them. On June 12 and 13, downy mildew hit the hardest. I had prepared the treatment, but I couldn't spray it in time, and it rained every day until June 23. Almost nothing was left from the old vineyard. I can stay calm thanks to last year's wine stock. If this happens again next year, I don't know what I will do."
Ivane Stefanashvili, "Variani Winery": "I skipped the grape harvest this year. We faced spring frost first, and then it was raining from May to early July. In July we had erratic weather (everything was ruined by then) and then hail struck. The frost wiped out most of the Shavkapito, but whatever survived was devoured by the downy mildew. That's not the only issue. I struggle to find workers to tend the vineyard on schedule. If you hire a tractor, it arrives so late that the grass overgrows and you can't do anything." The people of Mtskheta also suffered a bad year. In Chardakhi village of Mtskheta municipality, two wineries from the Natural Wine Association have vineyards and we asked them about the current situation.
Beka Aslanishvili, "Bea's Nebi": "Our harvest was ok compared to what I see and hear. We collected about 2 tons of grapes, which is average among others. But our grapes were also badly damaged. Downy mildew caused us to lose about 25% of the crop."
Iago Bitarishvili, winery "Iago's Wine": "I picked grapes late this year - in the middle of October. I never harvested this late because it was a very bad year. Hail wasn't the only problem. We had a cold spring with lots of rain. The quality of the grapes that survived hail and disease is still not favorable. Grapes may be visually appealing, but sweetness and acidity are problematic everywhere this year. That's why I stretched the picking of one vineyard as much as possible, so that maybe I can get more or less desired wine. This year, I personally lost about 60% of the harvest."
Kartli winegrowers say that nature in their area is getting tougher every year and people working in agriculture will have to show more flexibility and generally more work is needed to deal with the problems caused by climate change. This will obviously not be easy for small wineries, as most of them have limited financial resources.
Levan Sebiskveradze