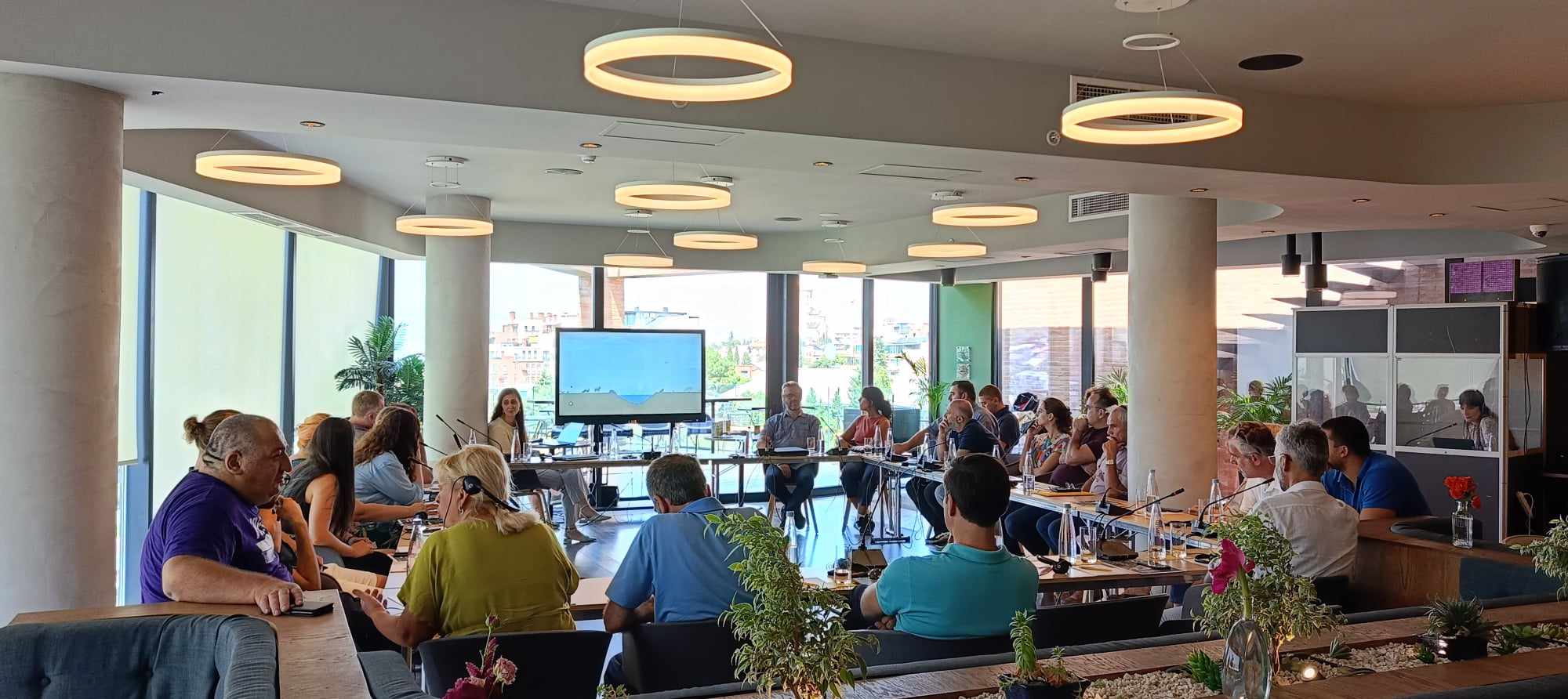 Ecological Georgia - Farming of the Future
As part of the Natural Wine Association and the German Organic Agriculture Association Naturland meetings, the Association members learned about the project "Ecological Georgia: Farming of the Future".
On August 15, Naturland experts conducted field consultations with the Association members at the "Anapea" organic farm in Tkhilistskaro village, Kvareli Municipality. On August 16, they visited the "Baia's Wine" organic farm in Meore Obcha village, Baghdati Municipality.
During the meetings, the experts evaluated the quality and profitability of vine treatment. The winegrowers and winemakers had the opportunity to compare the challenges of viticulture in Eastern and Western Georgia and to draw conclusions about the best methods of combating fungal diseases for their regions, taking into account their unique characteristics.
With the help of Naturland experts - Eva Gemel, Axel Sek, Amal Mizane, and Lasha Chanturia, the Association winegrowers discussed the methods, doses, and possibilities of using different bio treatments. As the experts explained, when selecting the treatment for vineyard care and especially for disease prevention, it is important to consider the location of the vineyard, the characteristics of the region, and the existing practical experience.
On August 17, a project meeting was held at the Golden Tulip Design Hotel in Tbilisi. The Naturland experts presented the "Ecological Georgia: Farming of the Future" project and the activities of the Naturland e.V. organization, as well as their future visions for the development of natural wine production in the country, to the Association's winegrowers and winemakers who were invited to the meeting.
At the meeting, it was emphasized how important the development of organic and natural agriculture is for the country on its way to EU membership, because economic progress must always be accompanied by ecological protection and the state and society's focus on bio-direction.
At the bilingual (Georgian-English) meeting, interesting animations related to natural agriculture were shown. The information was provided in various ways that were easy and comprehensible, which is especially important for such meetings.
The representative of the Natural Wine Association also gave a short presentation on the Association's activities, goals, and results to the experts. The Association representatives who were present at the meeting also answered questions related to joining the Association, banning the use of pesticides and herbicides, and prohibiting the use of additives in wine.
In the final part of the meeting, which was conducted in a question-and-answer format, the Association members and the Naturland experts shared their observations, knowledge, and experience from their three-day joint work in Kakheti, Imereti, and Tbilisi. They also discussed their future plans.
Levan Sebiskveradze