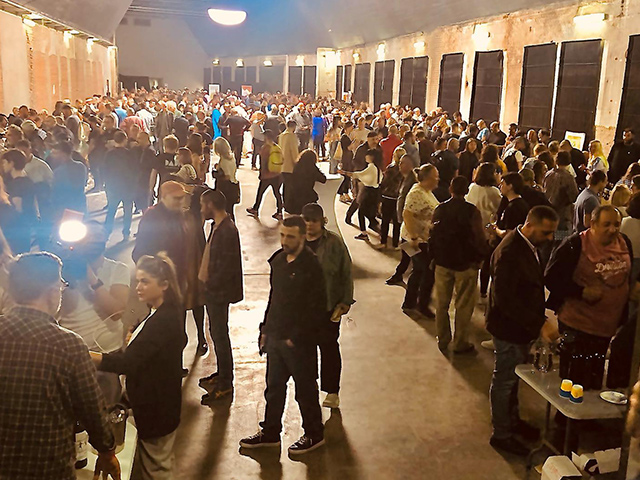 Zero Compromise - History moves on!
This year, Zero Compromise, a major festival of Georgian natural wine, is already a part of history. May 13 was a special and valuable day for both participants and guests of Zero Compromise 2022. The 91 cellars, members of the Natural Wine Association participated in the festival. Georgian and foreign wine importers, restaurateurs, journalists and wine enthusiasts tasted and evaluated the presented natural wines.
Zurab Mgvdliashvili, Director of Natural Wine Association, "Nikalas Marani": "This year our festival was quite successful, despite the difficulties caused by the Covid-19 pandemic and then the war in Ukraine. An unprecedented number of cellars participated in this year's Zero Compromise. We hosted 91 cellars and as many as 1,000 visitors. Most of the guests were from abroad, coming to Georgia specifically for this festival. Traditionally, with the financial support of the National Wine Agency, wine tours have been organized for importers, sommeliers, restaurateurs, and wine writers. It is worth emphasizing the positive feedback that followed this festival. Apart from a large number of cellars and guests, this year was especially notable for the quality of the wine. Both visiting and local guests noted that with the increase in the quantity of wine, the quality of natural wine is improving. This year there were also a large number of local restaurateurs, once again proving the popularity of natural wine in Tbilisi lately. I would like to thank all the people or organizations that contributed to the arrangement or the running of the current festival".
Zurab Topuridze, one of the founders of the Natural Wine Association, IBERIELI: "It was a very good festival. Even I, who have no problems selling wine, found new buyers from Hungary. It was a special opportunity for the new members of our Association. In fact, as you know, many new members joined the Association after the pandemic, and for many, the current Zero Festival was the only spotlight in recent years. Many have found a potential buyer. I can name four or five new cellars that found buyers at the festival. In general, there is a business-like atmosphere at this festival, so you couldn't find a single person who was there by chance. Moreover, so many interested people came to the festival that we winemakers couldn't even taste each other's wine due to lack of time".
Participation in Zero Compromise is limited because only cellars affiliated with the Natural Wine Association participate in the Festival. Consequently, the natural wines presented at the Festival hold high credibility, especially after the Association introduced its own wine verification system, which annually checks that the wines produced by members of the Association meet the standards of natural wine. Most of the cellars that are members of the Natural Wine Association have already gained experience in participating in wine festivals in Georgia and abroad, and each such festival is a new opportunity for them. For those cellars that joined the Association last year, this year's Zero Compromise was the first step toward cooperation with importers and restaurateurs.
Eto Gzirishvili, Tedo's Cellar "This year's festival was very positive for Tedo's Cellar, with many good reviews/feedback. The visitors of the exhibition who came to our stand, unlike in previous years, already had information - they tasted Tedo's wine somewhere or they were interested and came to our stand to taste this or that particular wine, and we were very happy about that. There was interest in the Pet-Nat series, which is new to Georgian natural winemaking, and there was also great interest and expectations in this respect. Following a two-year break, this exhibition was very pleasant and full of emotion".
Aleko Narimanidze, Alexsander's Wine Cellar: "The festival, as always, was very well organized. Since the end of the pandemic, we have missed festivals like this. However, I think there were fewer foreign visitors than in other years".
Tengiz Dvalishvili, TDWinery: "My expectations about the festival really proved to be fulfilled. I can't help but admit how well organized everything was. It was a pleasure to meet Ellie Faring, an American wine writer. Zero Compromise is not just a wine exhibition. The Natural Wine Association cares about our development and education, which is even more important. So many foreigners have visited us that it is very difficult to sort out who was an importer and who was not. I have not received a specific order, but the Italians, who happen to head the Milan Wine Festival, have invited me to their exhibition at the end of November. The whole thing makes me very happy, which gives me encouragement to do even more".
Nino Chitoshvili, Chitos Gvino: "I cannot assess it impartially. I think it was a very cool day. Unfortunately, I had to stand at the end of the tables and had fewer guests than others. Those who already knew my wine - approached us and enjoyed the Chito's Wine. I'm sure the day played a big role in the development of Georgian wine".
Tako Zhuruli, "Zhuka-Sano Wine": "Present Zero Compromise was a very important wine festival, probably for everyone involved, including us. After two years, we got together again, filled the tables with our wines, and hosted both foreign guests and Georgian buyers throughout the day. You could find anyone there - starting with the best winemakers, legends, and beginners, ending with novice cellars. "Zero" once again showed that the quality of wine is crucial at this festival. Our winemakers presented unforgettable wines - absolutely fantastic wines! It is a great honor for me to stand by them".
Giorgi Ghvardzelashvili "Ghvardzelashvilis Cellar": "Consumers, as well as importers and shopkeepers, all missed this day. We, the winemakers, were also keen to meet each other and our customers. The natural wine segment is growing every day and demand is increasing. Compared to previous years, the quality of wine presented at this year's Zero is even better, and importers have noticed this. As we speak, I offer my wines to foreign visitors for tasting now".
Zurab Khvitisiashvili, Cellar "Khvtisia Wine": "After a two-year involuntary break, this year's Zero was really cool. Probably all winemakers, myself included, missed great experiences and meeting new people at the festivals. We also met new members of the Association and tasted many new wines, and I am glad that among them was Khvtisia's Pet Nats. This wine drew a lot of interest and fascination from the guests".
Visitors to Zero Compromise noted their impressions of the wines in booklets handed out at the festival; the booklet had a separate page for each cellar participating in the festival, with contact information and a space for notes. Alongside the natural winemakers, famous natural wine restaurants from Tbilisi took part in the festival: G.Vino, Poliphonia, Craft Wine Bar, and others, which further boosted the festive mood of the guests.
Zero Compromise was organized by the Natural Wine Association with the support of the National Wine Agency and the Deutsche Gesellschaft für Internationale Zusammenarbeit (GIZ) GmbH.