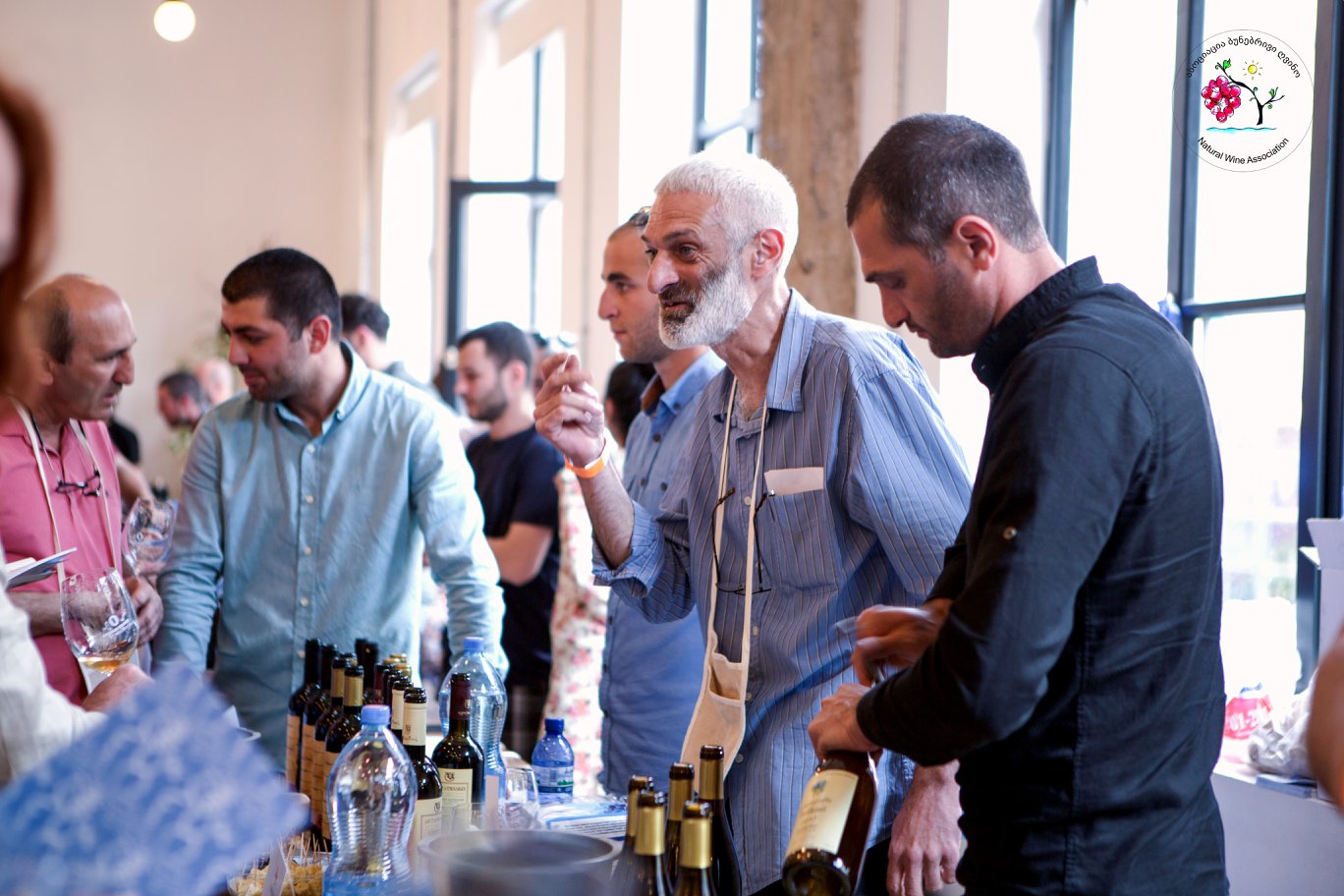 Expectations of Zero Compromise Festival Participants
On May 13, the "Zero Compromise" Natural Wine Festival will be held in Tbilisi. Cellars-members of the Natural Wine Association from almost every wine-growing region of Georgia will participate in the Festival. Most of the winemakers that NWA.GE interviewed are hopeful and believe that after the coronavirus pandemic ends, 2022 will be a turning point for Georgian winemaking.
Tako Zhuruli, Zhuka-Sano Wine: "I'm eagerly awaiting Zero Compromise - as if I want the world to know that we're here too, we're alive and we have good wine. I'll be presenting wines that I've been making for years: the dry white Rkatsiteli (2020 and 2021) and the dry red Rkatsiteli/Ikalto Red (2020 and 2021). This year, however, our red wine will be amber because in crushing the Ikalto Red, I crushed more Rkatsiteli than I needed. This caused the wine to take on a strange color - slightly pinkish amber. I called this wine "MISTAKE".
Lasha Khvedelidze, "Juso's Winery": "Our winery actively participates in all events that promote natural wine and raise awareness of small wineries. We are participating in this Festival for the first time, which is a good opportunity to present new wines, to share experiences with other winemakers and wine lovers, and most importantly - to establish business contacts with potential wine exporters and wine experts. We will present a wide range of wine lovers at the exhibition. These are "Rkatsiteli 2020", "Kisi 2020", "Kostafe 2020", "Saperavi 2020". We will offer Saperavi and Manavi Mtsvane of 2021 to the public for the first time at the Festival".
Mikheil Chonishvili, "Chona's Marani": "Zero Compromise" is a very valuable festival for me. First of all, it is a celebration of natural wine, meetings with winemakers and tasting different wines, a good mood and the aura swirling around this time. In addition, at the festivals of past years I met several of my importers, with whom I continue to work today. Thus, this festival has been a good jumpstart for me in terms of sales as well. Our cellar presents 5-6 different wines, both amber ("Mtsvane Kakhuri", "Rkatsiteli", cépages: "Chinuri & Rkatsiteli", "Mtsvane & Rkatsiteli"), as well as red wines (for example - dry "Saperavi" of Qvevri), We also have some experimental wines. For the most part, we are export-oriented. During the pandemic, our wine exports increased and new export markets emerged in both Europe and Asia. Presently, wines of Chona Cellar are sold in 11 countries: USA, Germany, France, Italy, Denmark, Holland, Switzerland, Belgium, Estonia, Japan, and Singapore".
Tengiz Dvalishvili, TDWinery: "This is my first Zero Compromise. So, I look forward to May 13th. We will be able to meet with exporters and guests interested in natural wine in person. It is my great desire to achieve the goals I have set. We will present 5 types of wine at the Festival. We have "Chinuri", "Tavkveri", "Shavkapito", "Danakharuli" of the 2021 harvest. We also have "Chinuri / Goruli Mtsvane / Budeshuri 2020" - with full maceration in Qvevri for 8 months. "I would especially like to highlight Danakharuli, made from a rare grape variety that many people don't have, so it's of great interest".
Sopio Samteladze, Cellar of Tariel Lomtadze: "This year, our family winery is participating in the exhibition Zero Compromise for the first time. We have been a member for almost three years, however, pandemic conditions prevented the festival from taking place last year. TThis year's festival will allow wine experts to discover and learn about our wines. This exhibition is the best opportunity for good wine to get to different countries of the world".
Rezo Kvachrelishvili, "NAOTARI": "We make direct contact with wine lovers, experts, and wine industry representatives at natural wine trade shows. We have attended every exhibition held under the auspices of the Natural Wine Association since its foundation. "Amerimeri" is also a good festival, which is held in Kutaisi. Zero Compromise 2022, alone, is a good opportunity to meet a wider audience of natural wine lovers after the pause caused by the new coronavirus pandemic. Our hope this year is to introduce more of our wines to wine lovers and give us the opportunity to make new international business contacts with potential buyers.
Ivane Stepanashvili, Variani's Marani: "The time has come to take care of the promotion of the cellar step by step. Up to now, I have paid more time and attention to the vineyard. This initial phase, focusing on growing the vineyard, has taken a little longer because of the difficult climatic conditions. Now is a good time to intensify my marketing efforts. Festivals like this one are a great opportunity for me to introduce products to the general public".
David Kapanadze "Tklapi's Marani": "For me, this festival is a gathering of a community united under one idea, whether there are winemakers, distributors, or just connoisseurs of good and healthy wine. The benefits include new contacts, and new acquaintances assisting in valuing our winemakers and exploring new markets, increasing experience being the result of thorough relationships and exchange of ideas between the entrepreneurs".
Restrictions enforced during the pandemic period, like in other areas, have had a negative impact on the wine sector. The delays in wine tourism were particularly devastating. Some small wineries, which were actively hosting tourists before the pandemic, lost significant revenues during the pandemic. However, Georgian wineries producing natural wine have not stopped (some have even increased sales in recent years). Zero Compromise 2022 best describes their current state and level of quality.